Greetings,
I just wanted to take this time to update the Members, and Visitors to the website of some of the things that have gone on this year.
First, Reminder…Stated Meeting This Monday Feb, 11th, fellowship dinner starts at 6:00pm and Stated Meeting starts at 7:30pm sharp.
Installation of the Officers for the 2013 year was on Jan 15th.
Our Officers for this year are:
Master: John Helwig
Senior Warden: Kevin D. LeQue
Junior Warden: Brian Trowbridge
Senior Deacon: Casey Nelson
Junior Deacon: Todd Berg
Secretary Treasure: Larry Drangsveit
Chaplin: Eric Johnson
Tiler: Ed Mahlum
Congratulations to All Officers this year!
On January 19th & 20th the Grand Lodge held their Secretary's Convention in Madison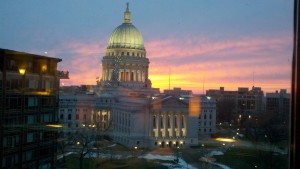 It was attended by Secretary/Treasure Larry Drangsveit, and Senior Warden / Asst. Secretary Kevin D. LeQue.  They cover a lot at these Seminars, and it priceless information and training for those who take on the Tedious Position of Secretary.
At the Meeting on January 28th Our newest Past Master John Accola was Presented with his Past Master Certificate by W.M. John Helwig,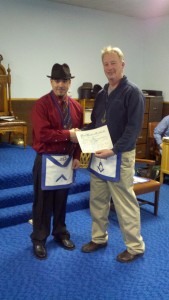 Congratulations John, and Thanks for a Great Year!
On February 5th and 6th, we had School of instruction both in Eau Claire, Hosted by Sanctuary Lodge #347, and at our own lodge. Supper was served at 6pm both nights,
and School started at 7pm sharp.  It was a great and enjoyable time as Harold Christensen our District Lecturer instructed and corrected us all while performing the different parts of ritual and procedure.
Thanks to everyone who could come out and attend.