I would like to take this moment to congratulate all of 2011's Officers.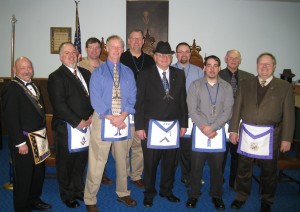 Good Food, Good Family, Good Friends, Good Brethren makes for a Great Evening.
Thank you to Bro. Scott Paulson (District 2 Deputy) and Bro. Gary Stang (Area Administrator) for your participation in our Installation of Officers this fine evening.
Thanks also go out to my wife Adrian LeQue for the wonderful meal that was served. Your support is Priceless and Appreciate by all.
I'm sure we're all looking forward to a busy year, as it goes by so fast.
Thanks again to all involved.